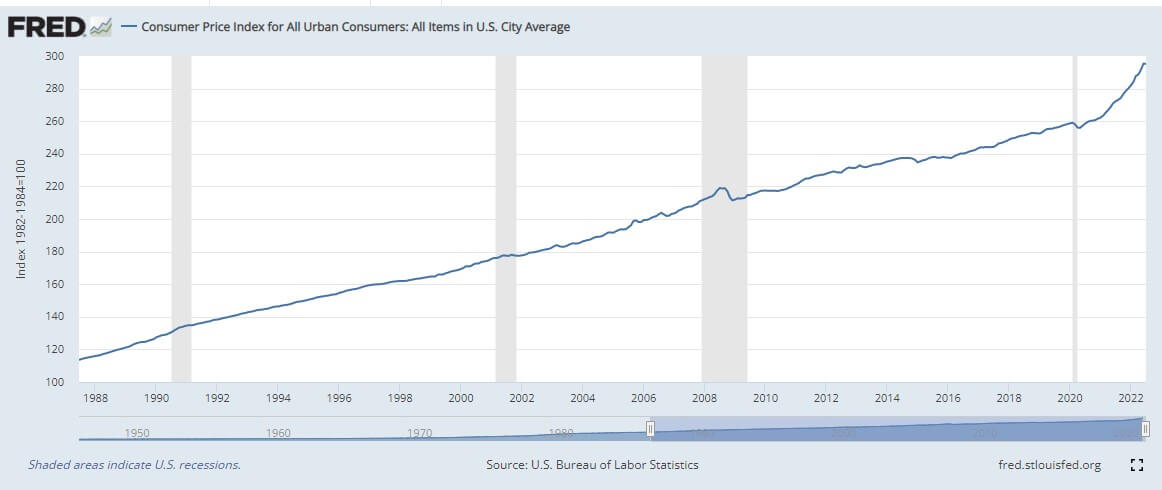 US July CPI +8.5% y/y vs +8.7% expected it's the first good sign about inflation
But let's analyze data below:
CPI energy -4.6% vs +7.5% prior
Gasoline -7.7% vs +11.2% prior
New vehicles +0.6% vs +0.7% prior
Used vehicles -0.4% vs +1.6% m/m prior
Owners' equivalent rent +0.6% m/m vs +0.6% prior
Food +1.1% vs +1.0% prior
Real weekly earnings +0.5% vs -1.0% m/m prior
Stocks are up with large gains SPX over 2.13% and Nasdaq NDQ over 3% Dollar down DXY over 2%. Instead of this small bounce in market Sentiment we don't think will last more than few days.
Goldman Sachs not expect inflation to drop too far from here!
Inflation will not go too much lower because:
The price of cars (main component of core CPI) will stay high for months because production problems and distribution chains problems
Retailer excess inventory will not have any impact on prices. GS estimates currently $20 bn—this translates to 3% of annual retail spending and 0.5% of total core goods spending. That only translate to 0.1% of downward pressure on inflation
We do, however, continue to expect the strong dollar and easing supply-chain constraints to weigh on import prices later this year, and in turn on consumer goods prices by the first half of 2023
Consumers have made changes in their shopping behaviors, like switching to cheaper brands or pivoting to dollar stores to get their essentials.
Covid Cases are surging in China that will affect distribution Chains
On others investment front investors must seek exposure to green Energy and Electric Vehicles (EV) because the Senate's deal targets clean energy and electric vehicles. The Senate has passed the Inflation Reduction Act; amid its multifaceted, approximately $370b of energy-related spending, both the clean energy theme and the electric vehicle theme are key components of the bill and the primary focuses of this commentary.
Electric vehicles and the broader EV value chain could experience accelerated demand from tax credits, government EV purchases, loans and grants.
Symbols like TSLA NIO RIVN QS BLNK HYILN VLDR Plug HASI NEEE will benefits from this law