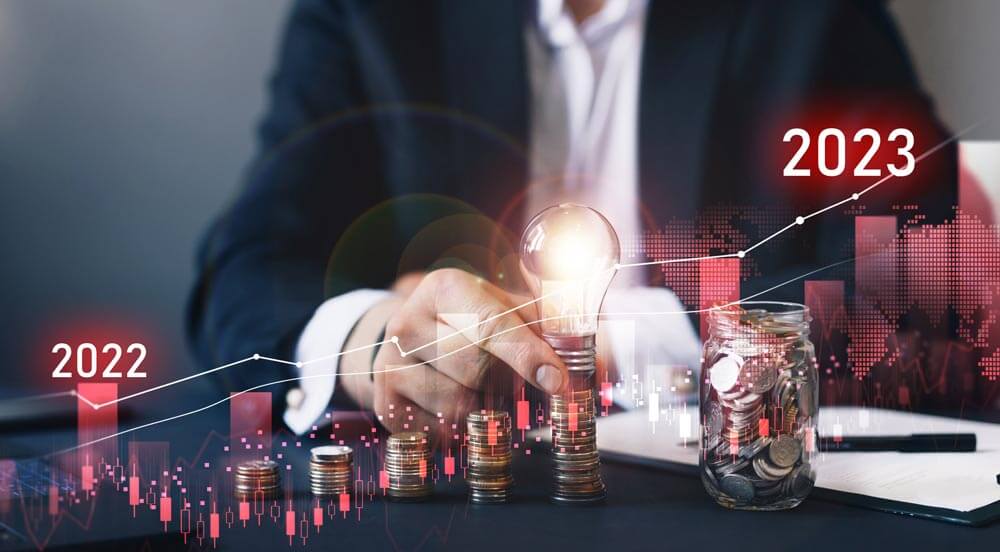 Trading is one of the most difficult jobs ever because you need to constantly adapt to unforeseeable external factors that affect your initial judgement without emotional attachment and it's also the only job where you can lose money while working.
The year 2022 taught us an invaluable lesson: "invest while adopting an active portfolio management". Old school investing rules like "Buy & Hold forever" or "Mix portfolio with 60% Stocks & 40% Bonds" are now deprecated and who followed them has now an insurmountable lose that will take years to recover to its initial values. I'm advocating to allocate the assets to certain economic sectors that will work in the near future.
This year was the case of Energy, Commodities & Consumer samples sectors, also REITs in the first half of the year. In the last two years, the investors had switched from Growth to Value & Dividend Stocks.
Our main target is to outperform the best funds that have a 60% to 80% allocation of assets in Stocks and, if it's possible, the S&P500.
These funds are:
FBALX Fidelity® Balanced Fund with 29.5% decline in unit fund year to date
VBIAX Vanguard Balanced Index Fund with 18.3% decline in unit fund year to date
FFFEX Fidelity Freedom® 2030 Fund with 22.3% decline in unit fund year to date
VWELX Vanguard Wellington™ Fund with 20% decline in unit fund year to date
RBAIX T. Rowe Price Balanced Fund with 19% decline in unit fund year to date
The funds above are the best US funds according to Money US News.
Instead of negative -1,8% yield performance, our balanced portfolio is outperforming the S&P and the funds mentioned above, also is well positioned if the market recovers, and also has an active hedge against future market drops. Just take a look on the Performance & Allocation Graphs below, screen captures from our broker IBKR (Interactive Broker) account.
On the graph, Others (orange) are funds in Precious Metals and Commodity.
Two major macroeconomic triggers forced us to adapt our investing strategy this year: the global energy crisis due to the Ukraine – Russia War and the Fed aggressive interest rate hiking followed by other Central Banks. We maintain a strong 💪 position into Precious Metals and Commodities Stocks & Funds but we are ready to adapt if the Fed changes its policy. The buy & hold strategy worked two decades ago until now because of the ultra-low Fed policy and the cheap money.
What to expect from 2023 Markets
2023 is going to be a challenging year and will require a solid analysis, a fast adaptive strategy, and a lot of patience. Volatility will grow and we will have lots of ups & downs in all market sectors. Investing in risky assets during such times is not pleasant.
1) Stock Market Evolution in 2023
It's difficult to say how stock market will evolve in the next year because we have positive and also negatives factors that both can influence markets in 2023.
Because I'm a positive person, I will start with the positive catalysts:
The November CPI index finally signalled that will start to peak decline in inflation that the markets were so eagerly awaiting. The Fed, despite the rate rises in 2022, should sometime in the second quarter begin to set the exit point of their very aggressive monetary policy. The Fed raised rates to 4.5% in December, and the so-called famous "pivot," should come between 5% and 5.5%. That was the reason for the market recovery in December.
Ending of the Ukraine – Russia War will have a positive effect on stock markets.
China ending 0 Covid Policy announced by leader XI JINPING will have strong 💪 effects on international stock markets but most on the Asian Markets.
Widespread decline in major asset classes.
While maintained, the current net spending by the US Government will have a positive effect (EV Markets, Green Energy Act).
Also, the Fed high rate will have a positive effect on the banking system socks.
On the other hand, the negative catalysts are in greater number:
Corporate earnings are the main source of risk for stocks. We expect lower earnings because of the inflationary environment.
Corporate Profit Margins will drop next year because right now we are at 👆 its highest levels. Corporate profit margins sit at their most elevated level in the last 70 years and this must be changed because consumers will stop spending sooner than later.
Treasury yield curves remain deeply inverted worldwide and that is one of the most important indicators that bottom is not in the cards for 2023.
Equity Exposure it's still at highest level compared to previous recessions; we expect another 20% drawdown to have optimal level to enter the market.
All Professional Economic Forecasters are pointing to recession into 2023:
Supply shortages and supply chain disruptions from government Covid-19 policies can't be solved by the Fed and will have a real impact on inflation. These issues need more ⌚ time to be solved.
Successful investing is a marathon, not a sprint. I believe in a well-diversified portfolio in different sectors and we should also consider diversification within those sectors. I look for value, trends and under known/owned stocks; my advices to 2023 allocation of stocks are:
Value will continue to outperform Growth
Small caps will outperform large caps
Emerging Markets will outperform US markets
Precious metals & Commodities will outperform Stocks
2) Commodities Markets
Coal and Gas markets were poised with strong gains after a global energy crisis triggered by the Russia – Ukraine War, while tighter supplies expected in 2023 could fuel more gains. If Ukraine will win the war against Russia, and Russia will also lose the Crimea, then we have a smaller possibility that Russians will start to pump oil & gas again. This scenario has a low probability of approx. 10% and seems unlikely to happen because a change of the Russia regime is needed. Much more likely to happen is that we'll have a frozen conflict with military advantage of the Ukrainian side and without a political regime change in Russia. From this point of view, we are positive on energy market with 60% of confidence. We don't consider a larger percent of confidence because of the new China Covid-19 outbreak that will pose a serious threat to growth.
Our view is bolted by Goldman Sachs in their last memo:
"Despite the recent price declines, commodities will still likely finish the year as the best performing asset class. From a fundamental perspective, the setup for most commodities next year is more bullish than it has been at any point since we first highlighted the supercycle in October 2020."
Price of Food will soar because the invasion reduced supply from the key grain exporter Ukraine to a global market already driven higher by adverse weather and COVID-19 related restrictions. Corn and soybeans hit a decade high-prices climbed to an all-time record.
3) Precious Metals Markets
We are positive on gold markets because of the following factors:
Further weakening of the dollar as inflation recedes its positive for Gold
Geopolitical conflicts are also a good catalyst for Gold
Economic growth in China, after two years and half of lockdown, next year will improve Gold
Further weakening of the dollar as inflation recedes would provide support for Gold
You can read more in our previous articles https://topfxinvest.com/blog/markets-are-too-optimistic-about-the-fed-slow-pace-of-rate-hike
Silver will have also a very good evolution of price if the soft landing of markets and industrial sector will start to grow.
Gold & Silver are the ultimate ways to preserves value right now.
This article highlights our view for 2023 Market evolution and we want to wish you a profitable New Year in good health and working force.
For the year 2023 we plan to introduce a Stock Recommendation Service for investors and other facilities on our website.
To your success!
TopFxInvest Team